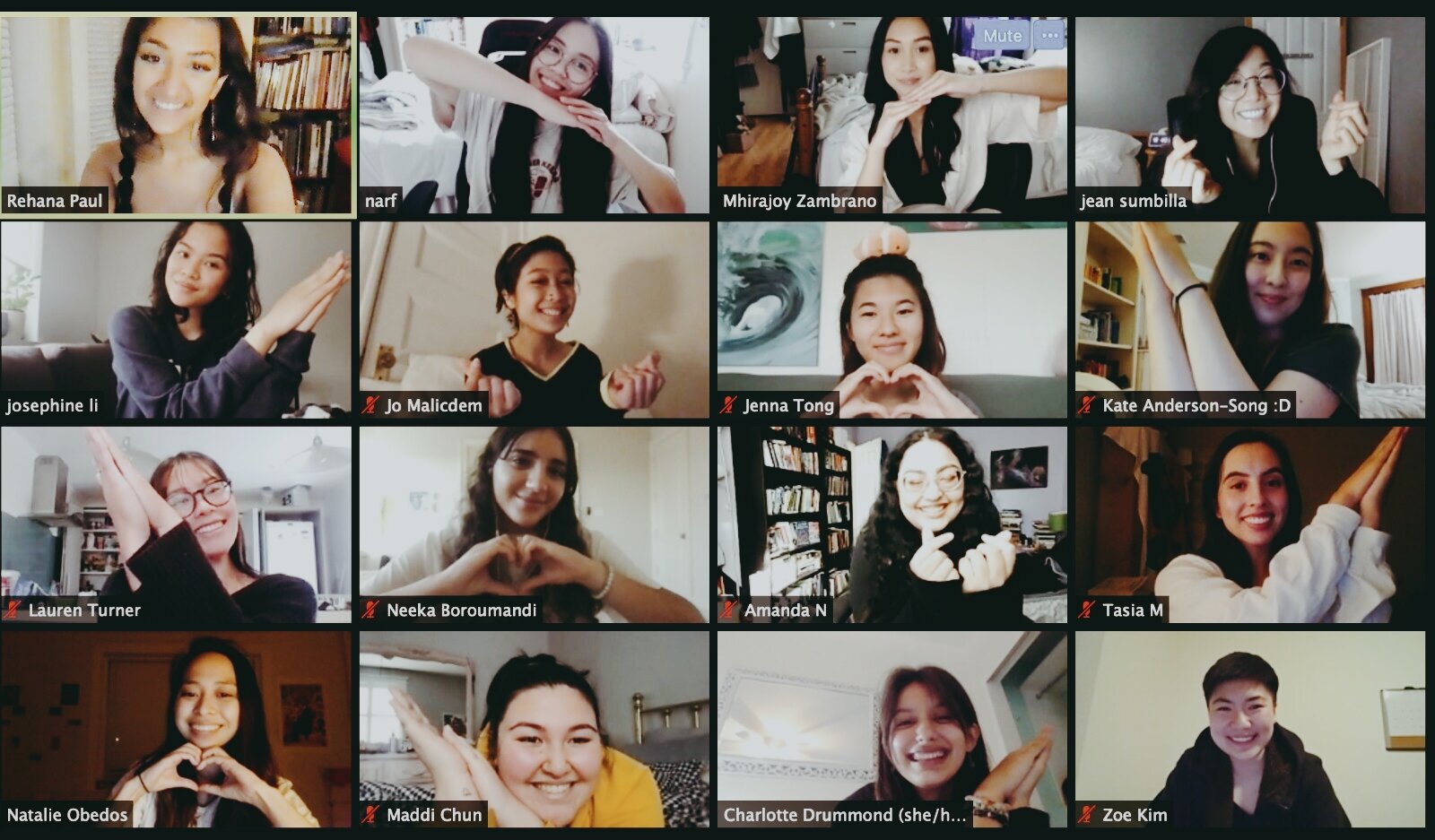 Overachiever Magazine was started by Rehana Paul in October of 2018 to give a platform to all Asian women, non-binary people, and other gender minorities.
Our name is poking fun at the stereotype that all Asians are overachievers, especially Asian women, non-binary people, and other gender minorities. It's also in recognition of all of us who have had no choice but to be overachievers: managing societal expectations, family obligations, and educational opportunities, all while fighting the patriarchy.
We have grown since then, putting out bimonthly issues (we are contributor powered: apply to write for our next one!), and weekly reviews of culture, and news that is important to us.
You can find announcements, more news, and get to know our staff on social media: give us a follow, and learn how you can get involved today!
We do not claim to speak for all Asian women, non-binary people, and other gender minorities. We are just here to give them a place to speak for themselves.
We hope you'll join us.
Rehana Paul

founder | editor-in-chief

Rehana Paul (she/her) is the editor-in-chief and founder of Overachiever Magazine. Frustrated with the lack of intersectionality and focus on representation politics in existing Asian spaces, she started Overachiever in 2018. Rehana is currently studying international relations, marketing, and communications at American University in Washington D.C. She works freelance as a communications and marketing consultant. Rehana is overly enthusiastic about her puppy, Taylor Swift, and coffee in all of its forms.

Francine Cayanan

managing editor | ⃞ ⃞ ⃞

Francine Cayanan is Overachiever's Managing Editor, a lover of books, animals, and uplifting Asian women. She strives to create a space where Asian women of all walks of life feel they have room to grow and flourish. When she's not working on the magazine, you will find her studying, playing games, or finding different ways to be a loaf.

Charlotte Drummond

outreach director

Charlotte Drummond (she/her) is the head of the Outreach team at OM. She is a mixed Indian-American student from Los Angeles, California, currently studying publishing in college. She loves to read, take pictures of trees, nap with her dog, and misses mango lassi whenever she's not drinking it.

Mhira Zambrano

social media director

Mhira Zambrano (she/her) is the Social Media Director for Overachiever Magazine. She is a recent graduate from the University of California, Santa Barbara with a degree in Sociology. She is passionate about the use of social media as a tool of empowerment and social change and believes in OM's ability to do as such for Asian womxn all over the world. In her free time she likes to curate playlists, mist her plants, and critique different brands of oat milk.

Jean Sumbilla

visual director

Jean Sumbilla is the Visual Director for Overachiever Magazine. Currently, she is studying for a Bachelor of Science in Nutrition and Food Sciences degree. She loves being a part of a community that provides individuals with a space to voice their thoughts. Aside from her work for Overachiever Magazine, you can find Jean studying, being a coffee/boba enthusiast, listening to music, or doing a combination of all three.

Zoe Kim

executive assistant

Zoe Kim is a Korean American college student majoring in entomology. She is passionate about facilitating honest and constructive dialogues. When not looking at insects, she enjoys hiking, trying out new recipes, and doing random workout challenges.

Amanda Nava

associate editor

Amanda Nava (she/they) is a freelance proofreader, editor, and writer in the San Francisco Bay Area. Can be found hiking in real life and the isles of Skellige when not writing. Is a mild hazard while reading and walking their dog. Nava aims to create equity in publishing and decolonize the literary canon on various platforms, including Instagram (@books.with.mana).

Tasia Matthews

news editor

Tasia Matthews currently works in international security and peacebuilding, with a focus on Middle East, North Africa region. She plans to return to school for a Masters in Global Security and Governance. She likes reading, playing tennis, and generally being outside.

Natalie Obedos

associate copyeditor

Natalie Obedos is the Associate Copyeditor for Overachiever. She has been a part of Overachiever's team since it's founding and wouldn't change it for the world. Besides drawing and writing, Natalie also loves eating good food, cooking badly, and making up elaborate stories for portraits in museums. She recently mastered the art of making dumplings. (And wants to redo Julie and Julia but with Sohla El-Waylly and herself).

Sabine Gaind

staff writer

Sabine Gaind (she/her) is an Indian-Canadian writer from Toronto, studying Social Justice and English Literature at UBC. She is passionate about storytelling and its ability to empower and bring people together, especially those who have been sidelined in the mainstream. Outside of writing, Sabine can be found baking chai cookies or watching Bend It Like Beckham for the hundredth time.

Shruti Rajkumar

staff writer

Shruti Rajkumar is a part of the Editorial team at Overachiever Magazine. As a journalism student in Boston and a disabled Indian American woman, she enjoys writing articles about the intersectional of race and disability. In her free time, she can be found absorbing the joy and peace of community healing, watching TikToks, and going on spontaneous adventures with her friends.

Kate Anderson-Song

head interviewer

Kate Anderson-Song (she/her) is a NYC-based writer, artist, and performer, who recently graduated college, studying Film Studies & Acting. When she's not busy being a homebody (and conducting interviews with the coolest Overachievers), you might catch Kate out and about at a bookshop or on a random walk, always with a tea/coffee in hand (or you can find updates on www.KateAndersonSong.com & @K8AndersonSong on Instagram). And you can follow her (almost) daily art/writing on Insta/TikTok @theK8Pages!

Hannah Teoh

outreach manager

Hannah Teoh is a Malaysian Chinese college student currently studying Economics and East Asian Area Studies at the University of Southern California. She is passionate about creating safe and inclusive dialogue spaces. In her off time (or more like at all times), she can be found eating brownies, online window shopping, and listening to the Avatar: The Last Airbender soundtrack.

Syme de Leon

illustrator

Syme de Leon is an Illustrator at Overachiever Magazine. Passionate about social justice, Syme also graduated from a Masters in Human Rights and is currently based in Bangkok, working for a regional NGO that works to protect and promote human rights across Asia. She loves reading, sunrises, chocolate and chocolate (yes, chocolate twice).

Jenna Tong

illustrator

Jenna Tong (they/them) is an Illustrator at Overachiever Magazine. An art student in California, they can often be found drawing chaotic animals where they don't belong. As an Asian-American Asexual Aromantic Agender Artist and Activist (AAAAAAA!!!) they look forward to making a space for Asian womxn and non-binary people's creative work to shine.

Jayna Matharu

illustrator

Jayna Matharu is an Illustrator and Graphic Designer from London. As a 3rd gen British Asian, she creates work based around her cultural identity and interests such as vedic astrology. She loves listening to lo-fi music and finding new books to read by Asian authors.

Chloe Sun

graphics manager

Chloe Sun (she/her) is a Chinese-American high school artist and graphic designer based in Indiana. She's passionate about using visual media to spark important conversations and uplift women of color. If she's not putting together different publication issues or working on art pieces (which you can check out at @gallery.of.sun), you can usually find her decorating cakes at ungodly hours, taking walks outside, or dancing in her room.

Arouny Prasimay

social media manager

Based in Paris, Arouny Prasimay is a member of Overachiever's Social Media team. She is a high schooler of Lao, British and Chinese descent, and loves being able to highlight important issues through OM's platform. You can likely find her trying to master the Ghibli pieces on the piano, or on the look-out for a new fashion or Tudor – related exhibition to go to (depending on her mood).

Roma Manaois

social media manager

Roma Manaois (she/her) is a Filipina junior in Qatar. She desires to raise awareness and volunteerism on various issues, especially for the Asian community. Oftentimes, you'll catch her browsing through the internet, getting attached to fictional characters, and enthusiastically being a sucker for sky views.